H I S T O R Y
1
21.10.2003
CTFCL
120 : 60
[TEG]
TEG vs 21st - CTFCL Match vom 21.10.2003 Endstand: 120 : 60
Nachdem Spinner sich vor seiner Arbeit mit billigen Ausreden (er waere angeblich nicht dabei gewesen) drueckt, muss ich wieder herhalten :p Der Fight gegen 21 koennte unser letzer in der laufenden ctfcl-Saison sein, nachdem einige Clans mittlerweile gedroppt sind. Die Punkte hatten wir dringend noetig, um einen Platz an der Sonner ergattern zu koennen. So stellten wir uns nicht unbedingt an, aber seht unten...

After spinner presses itself before its work with cheap excuses (it nominally not at the same time would have been), I must again here stop: p of the Fight against 21 could be our letzer in the running ctfcl-season after some Clans are meanwhile gedroppt. We had the points urgently compel in order to be able to manage to grab a place at the Sonner. So we did not engage ourselves unconditionally, but see below..
1.Halbzeit bases2k3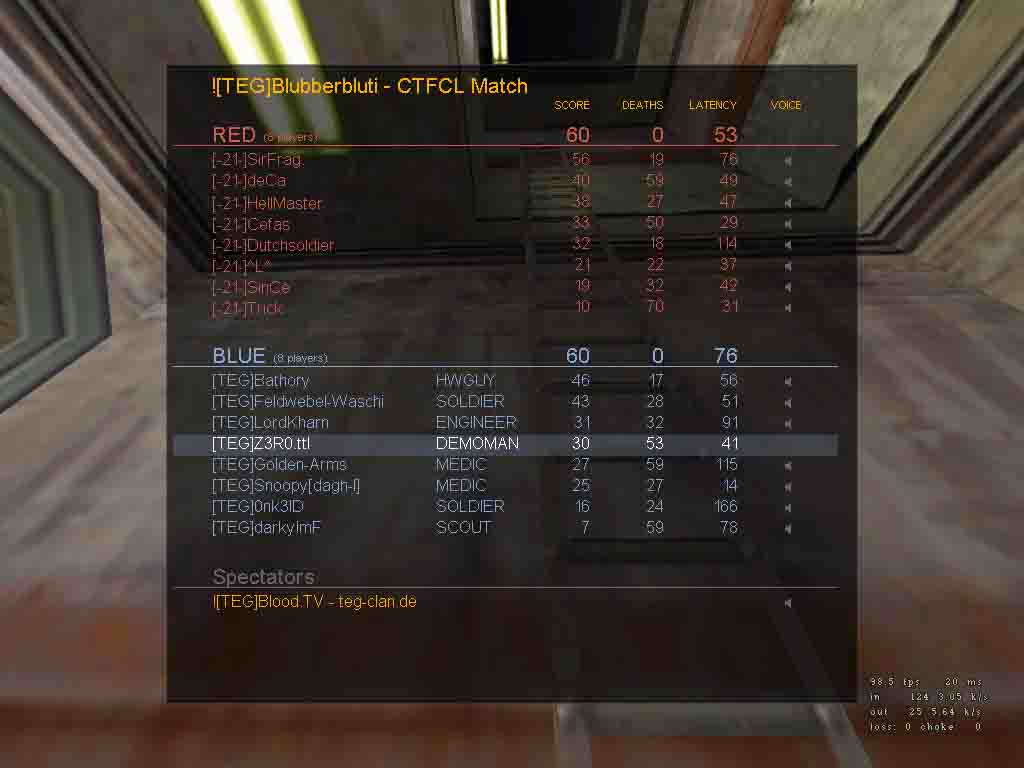 Hier stellten wir uns sehr blöd an. In der Offense, wie auch in der Defense. In der Off haben wir kein Mittel gefunden, den HW im Ramproom einigermassen unbeschadet zu überwinden. Die Def schwamm aufgrund falsch besetzter Positionen zu allem Überfluss auch noch, so reichte es hier nur zu einem Unentschieden.

Here we engaged ourselves very stupid. In the Offense, like also in the Defense. In the Off, we found no means to overcome the HW in the Ramproom somewhat in spite of. The Def swam based on incorrectly occupied positions to all redundance also yet, passed it here only to one undecided.
2.Halbzeit mortality_l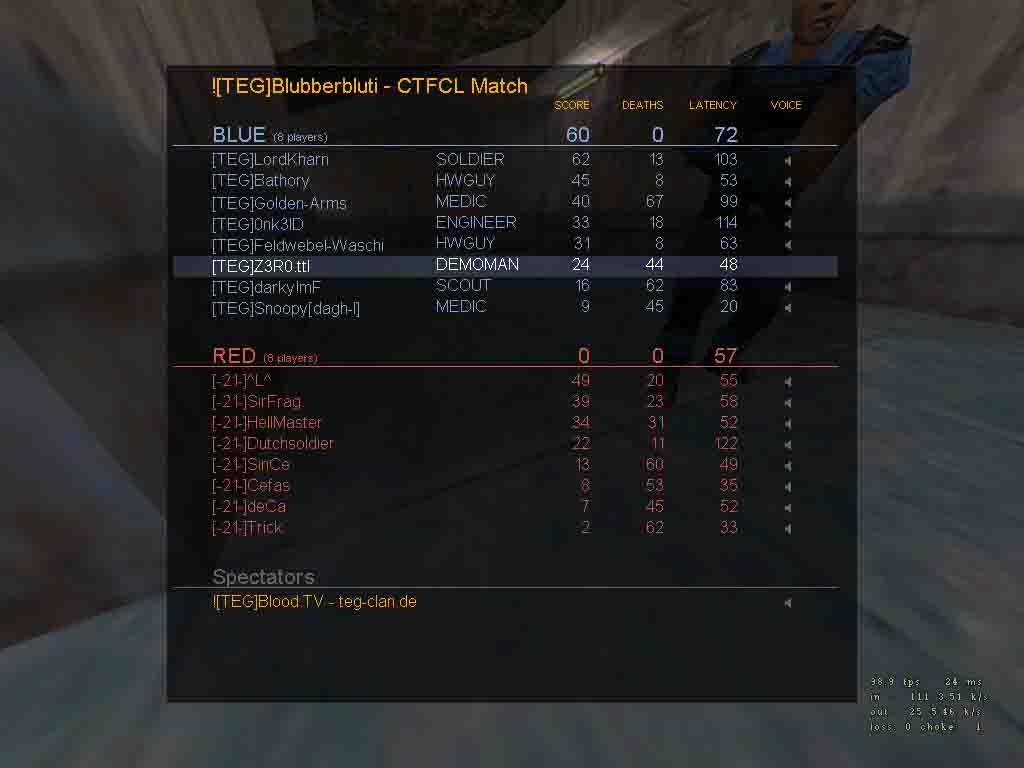 Mit ein paar Handgriffen stellten wir in der Def um, was sich bezahlt machen sollte. Ich waehlte in der Off eine Klasse, die dem Gegner bitter aufgestossen hatte. Mit gezieltem!! *g* Spam, wurde die gegnerische Def öfters in Verlegenheit gebracht. Ein geeignetes Gegenmittel konnte nicht gefunden werden, so wurde versucht die Taktik *bg* nachzuahmen, gegen Ende der Halbzeit traf man des Öfteren 2 Demomen auf der Bruecke. Unsere Def ist aber auf Spam trainiert :) , so überstanden wir diese Halbzeit hinten schadlos.

With a couple handle we shifted in the Def, what should make itself paid. I selected in the Off a class that had the opponent bitterly aufgestossen. With aimed! *G* spam, was brought the hostile Def often in embarrassment. A suitable remedy could not be found, became to imitate tried the tactic *bg*, encountered one against end of the half-time the often 2 that grandmas on the bridge. Our Def is trained however on spam:), overcome we this half-time behind indemnified.
An sich ein schönes, kniffliges Spiel, waeren da nicht die paar Übergriffe auf mortality gewesen, da erwies man sich doch als ziemlich schlechter Verlierer. Ein sehr nützliches Plugin namens HLTV kennt man bei 21 anscheinend auch nicht, man hielt/hält es fuer einen bösen Speccer, weswegen man sich auch weigert den Clanwar zu bestaetigen. :(

At itself a pretty, kniffliges game, the couples would not be would spread been there on mortality, proved there one yet to be a rather bad loser. A very useful Plugin by the name of HLTV one does not know got holds refuses in 21 apparently also, one it for an evil Speccer, why one also to confirm the Clanwar. : (
Autor:
Z3R0