TEG vs M8 - CTFCL Match vom 05.10.2003 Endstand: 120 : 130
What a night! We all were looking forward to that match though we were shivering bones of what would await us. It was M8 - Maximum8, one of our direct contenders for division 4 and the strongest for sure :)
All in all we could win the map we were supposed to loose and vice versa *g*
1.Halbzeit shutdown2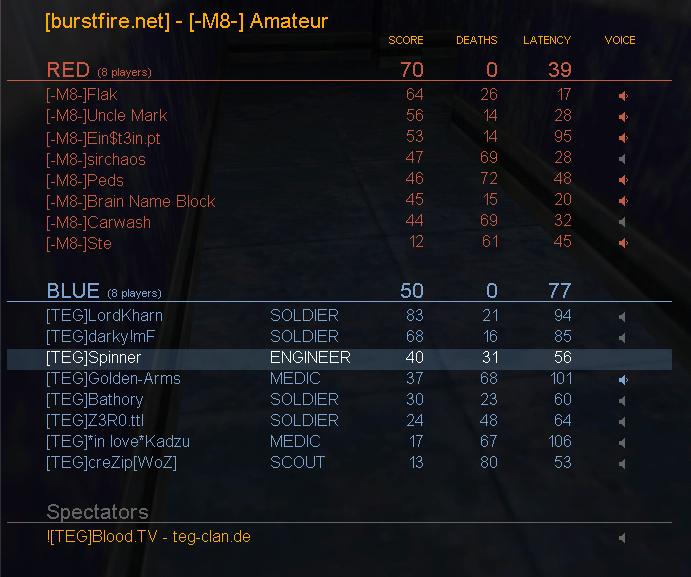 The first 15 minutes had been played and people in HLTV had probably thought that TEG isn´t either offing nor deffing... 10:50. But suddenly our offies waked up and our def was able to let the enemy drop the flag very comfortable :)
M8 ran against a wall made of a not willing to down SG and immortal soldiers that splashed them and spilled their blood over the ramp *g*
Our off began capping and did very well by stealing the flag four times in the second half of the map whereas M8 was only able to heist two of ours :P
Maybe we should discuss parting the points of the map *ggg* ok, M8, u will get 2 pts and we 1? no? k, keep them, u will need them :P

Result: 50:70
2.Halbzeit well_now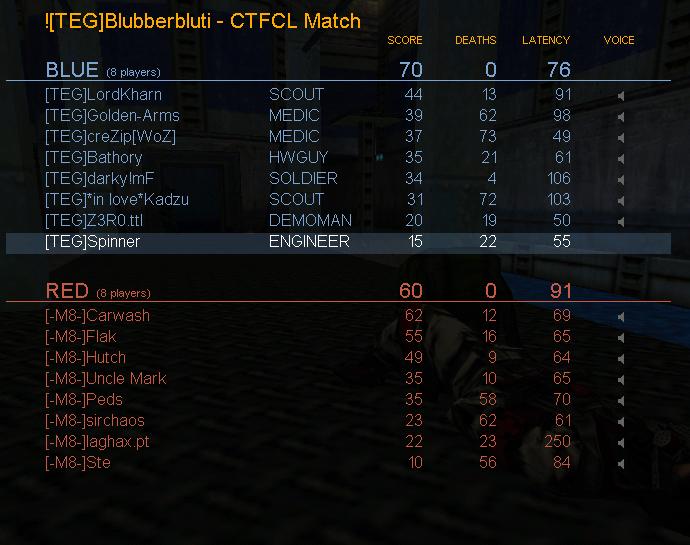 This map reminded me more or less of a sinusoid... We had a mean beginning :) 20:0 after 10 minutes. But then there was silence. The map was played like a round based stategy game and now it was M8´s turn. Five times they grabed our flag and most of the time they carried it through the t into the ramproom where they conced up to the attic (4-bag) and were gone... 20:50!
5 minutes before map-ending it was our turn again and it was high time :) 30:50 - 40:50 - 40:60 (d´oh) It seemed like M8 calling for their turn. Over our dead bodies!!! 50:60 - 60:60 - 70:60 --> three minutes of tension with a better ending for TEG and our deffy LordKharn (who short swiched to off) capped the 7th flag 7 seconds before map ending.

Result: 70:60
One of the closest matches I´ve ever played. Caps on both sides such that a map never became boring :)
Until each end of a map both teams had a chance to win it. In the end the draw appeared to be a just result!

vgg M8, hope the others will get u down on your knees :PPP

Final Result: 120:130 - DRAW according to CTFCL rulez!
Autor:
Spinner